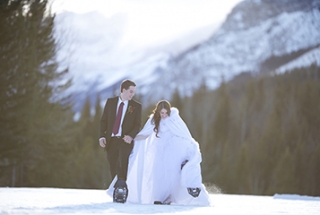 Winter Mountain Wedding Photography
Shanna C - January 10, 2015
In this multi-week series, our experts give advise on how to have the best Winter Wedding possible.
---
There's something about a Winter Wedding in the Mountains that screams Romance. With the majestic beauty of snow covered tress and mountain caps, plus the amazing light that winter emits, if you're looking for the full mountain experience, winter is the perfect time to book your wedding.
Here in Canmore and Kananaskis, we are all about winter (it's around for 8 months out of the year, so we kind of have to be), and we know winter weddings. If you're planning on, or thinking about having a winter wedding, you'll want to read on for tips and inspiration from our local wedding professionals, on how to get the most out of your Winter Mountain Wedding.
Today we have winter wedding photo tips and inspiration from Aydin Weddings

Dressing right for your winter wedding – Tips from Aydin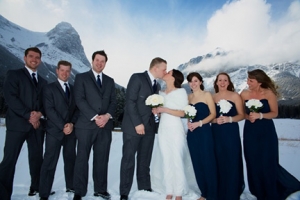 The day has arrived and you're ready for your winter wedding in the beautiful mountains of Canmore & Kananaskis. As your photographer might want to take you to some great scenic locations its important to prepare for it.
Here are some tips and what you should bring along.
• You'll need a warm coat that has a hood.
• Gloves or mittens to keep those hands warm. Add some hand warmers to your mitts on really chilly days.
• Your feet can get cold quickly when standing for shots. If you're planning a winter wedding in the mountains, get some warm boots that would look great with your dress. Most time, your dress will cover up your foot attire, but, having cute ones will add the winter experience.
• When you're not taking pictures, stay inside the vehicle until you need to be back outside.
• Keep a warm drink inside the vehicle ready to have when you get back in. Bring snacks because you'll need to keep that body energized especially in colder days.
• Try not to drink too much alcohol as it will give you a false sense of warmth, wait until you're at the reception.
• Tissues and your makeup kit for ladies so you can adjust as needed, especially when the snow is falling.
I've been in situations where bridal parties don't dress properly, making it hard to capture amazing photos.
Visit Aydin Weddings online: www.Aydinweddings.com
---
Read here for Winter Wedding Planning Tips: Click Here
Read here for Hair Styling Tips for Winter Weddings: Click Here