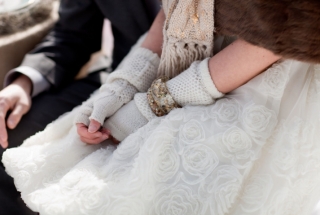 Winter mountain weddings – beauty tips
Shanna C - December 28, 2014
In this multi-week series, our experts give advise on how to have the best Winter Wedding possible.
---
There's something about a Winter Wedding in the Mountains that screams Romance. With the majestic beauty of snow covered tress and mountain caps, plus the amazing light that winter emits, if you're looking for the full mountain experience, winter is the perfect time to book your wedding.
Here in Canmore and Kananaskis, we know winter, and we know winter weddings. If you're planning on, or thinking about having a winter wedding, you'll want to read on for tips and inspiration from our local wedding professionals, on how to get the most out of your Winter Mountain Wedding. This five week series will include tips on beauty, photography, venue sites, decor and planning.
This week we are featuring tips from our beauty experts, on what styles work best in frigid temps.
A couple of tips from JK Hair Designs
Visit JK Hair Designs online: jkhairdesigns.com
"Hairstyles best to beat the snow"
If on your wedding day you wake up to a snowy filled wonderland, your best bet (if you plan on being outside at all and not want an umbrella over your head the entire time) would be a up-do. There are many up-do's your stylist can create for you and your hair type, that will ensure you still look great even after having your ceremony or photos out in that snow globe! A great choice, (but not limited to) for straight or wavy hair types is a classic "chignon" or "French twist". For those of you naturally curly haired ladies, work with what you have. That way when your hair gets wet from the snow it'll look natural, romantic and beautiful. You can still opt for an up-do or half up-do while using your natural curl.
"Hairstyles to keep you warm"
Let's face it anything -20 or colder is no fun, especially in a dress! Wearing your hair down can give you that little bit of extra warmth on your neck and shoulders. There are many different ways you can dress a down style up. Such as vintage waves, hair accessories and bridal veils of course. If you feel you want a hair design but still have your hair down, a half up-do is the way to go. Wether it be braids, twists, or an intricate celtic knot pulling half your hair back, there are plenty of options.
---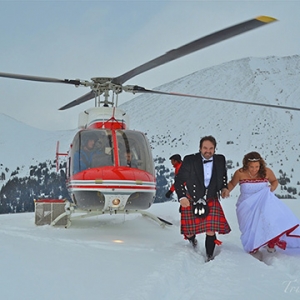 Photography Credit: Trish Gayton