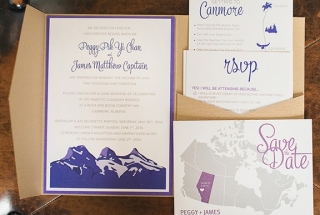 Wedding invitation timeline tips
Shanna C - February 21, 2015
Wedding stationery have you a little lost? Follow these simple tips on when you should send out your Save the Dates, Wedding Invite and Thank you Cards, and when you should start working on them to make your timeline work.
---
Article by Pink Umbrella Designs
Are you one of the newly engaged couples out there that are frantically trying to book venues, photographers, florals, linens, make-up… etc, and are also asking the common question, what is the etiquette for sending out Save the Dates, Wedding Invites, Bridal Shower Invites etc.
Since we've been asked this question with each one of our couples to date, we've decided to share our research, and hopefully lighten your load, just ever so slightly.
Save the Dates
• We advise at least 6 months in advance, up to twelve months, or even more depending on location, timing etc.
• If your guests are travelling far distances, a Save the Date should be sent our at least 6-8 months in advance. If you are getting married on a long weekend, we recommend sending your Save the Dates out at least 5 months in advance. Many factors will vary the timing here, so be conscious of these when planning.
Invitations
• We recommend sending your invites out a min of 4 months in advance, and no less than 2 months. If you haven't sent out a Save the Date, we do encourage sending them out a little more advance, especially if your guests will be travelling. Keeping in mind long weekends, busy travel seasons etc.
• If many guests are needing to book hotel rooms be sure to give them plenty of notice, especially if you are getting married in a high booking season (June – August & December). Sending out Invites 4 months out and including an accommodation insert is a good idea.
• Leave yourself enough time to organize your attending guests with having an RSVP date that is at least a month before your wedding date. You will need to have final guest numbers in order to plan your seating arrangements, meal choices with your venue and have your day-of stationery created, such as Seating charts and Place Cards.
Bridal Shower
• Sending out a Bridal Shower invite 3-4 weeks before the shower date is plenty of notice. Most of the time, Shower guests aren't travelling great distances. If you do have guests coming from far away, give them as much notice as possible, even if it's just by having a good catch up chat over the phone.
• Bridal showers are typically 1-2 months prior to the wedding date.
Thank You Cards
• Enjoy your honeymoon, open your gifts at your leisure, enjoy being the newly married couple that you are. Thank You cards should be sent out within a few months of your wedding date. Your guests know you've been busy, and don't except to see anything right after your wedding.
Day-Of Stationery
• Although you don't need to mail our your day-of stationery, it's good to know when you need to have all your information into your stationer. Giving your guests an RSVP date of a minimum of 1 month before you big day will help you get all your numbers, guests names etc. to your stationer a min. of 3 weeks prior to your date.
• If you are ordering your day-of stationery from an out of town vendor, add at least a week to both the RSVP date, and getting all info to them, to ensure that you stationery arrives at least one week before you wedding date.
Important Things to Remember
• Mailing can take anywhere from 2 days to 2 weeks, depending on where your guests are, keep this in mind when choosing your mail out date.
• Ordering invites from a vendor not in your town? Alot the appropriate shipping time into your timeline, and if you want to see printed proofs, alot even more time.
• Mailing fees: Ensure that your stationery vendor knows the Max. and Min. size and weight for Canada Post / USPS so that you don't end up with oversized fees. A typical wedding invite is 5 x 7 (A7) and an RSVP 5.5 x 4.125 (A2). If you are doing Pocket-Fold invites with multiple inserts, plan to spend more on mailing as the weight will more than likely be above a regular stamp.