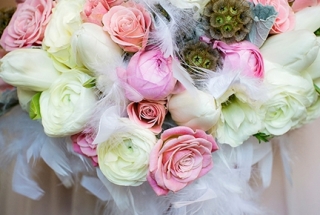 Vendor spotlight: Flowers by Janie
Shanna C - March 21, 2015
Whether your wedding style is romantic, rustic, vintage, classic or something in-between, Flowers by Janie loves combining colour, shape and texture to create artistic designs that are both exquisite & inspiring.
---
Flowers by Janie is a boutique floral studio specializing in fresh wedding floral design. We are a husband and wife design team who are passionate about flowers and love crafting fresh floral art pieces that are natural, modern and sophisticated!
How long has Flowers by Janie been in operation?
3.5 years. We started the business in Bolivia, South America and operated there for 1 year before deciding to move back to Canada. We have been operating from our design studio in Calgary, Alberta for 2.5 years. I (Janie) have over 14 years of floral design experience and have created bouquets and wedding flowers for more than 200 brides and grooms.
What services do you offer?
We offer fresh floral design for weddings and events including the creation of bouquets, corsages, boutonnieres, hair flowers, centerpieces & ceremony and reception floral decor. We offer an assortment of vase rentals for brides and grooms as well as delivery, set up and take down services if needed. We provide complimentary consultations by phone, email or by appointment in our studio.
How would you describe your design style?
Our design style is Natural, Modern and Sophisticated. We only use fresh flowers and our arrangements are inspired by nature – especially the mountains and foothills. We love using mixed foliage, pods, branches and other natural elements in our designs.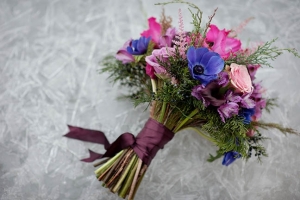 Besides centerpieces and bouquets, what are some other ideas for using florals at a wedding?
• Aisle décor
• Ceremony florals such as archways or gazebos adorned with flowers or large vases of flowers on either side of the altar
• Hair flowers like floral crowns and headbands or a single bloom to compliment the wedding hairstyle
• Pomander (kissing) balls or flower wands that the flower girls can carry
• You can dress up the washrooms with small arrangements of fresh flowers as well as gift, cake and sign in tables
• The head table can have a special arrangement of flowers placed on it
• We've suspended flowers from the ceiling to create a suspended centerpiece for lots of neat visual effect.
Since it's winter, what are some hidden gems in the winter floral world?
Anemones and ranunculus, popular wedding flowers, are available in winter and early spring. Peonies are also available in early winter from flower growers in New Zealand. This bloom has a very short growing season during our Canadian spring but winter brides have the option to include it in their weddings. There are lots of non-floral elements that look great in winter bouquets such as pinecones, cotton, lotus and scabiosa pods, branches or Christmas ornaments. There is a lot of different winter foliage available as well (cedar, pine, fur). One of our favourites is the Blue Berry Cedar – great for texture and bringing in deep blue to a cool winter wedding palette.
What is the biggest trend you are seeing in mountain wedding florals for 2015?
We are seeing a trend towards more loose and wispy hand tied bouquets that include lots of mixed foliage to compliment the natural vegetation and landscape of the mountains. A variety of foliage mixed with large showy blooms such as peonies, roses and hydrangea is definitely popular for mountain and outdoor weddings.
How do you help a couples wedding planning go smoother?
We usually meet with each couple to have an in person consultation where we discuss what flower varieties and arrangements will suit the couple based on their tastes, color palette, wedding theme and wedding venue. We give our honest opinion and offer lots of suggestions. We offer delivery, set up and take down services for a fee if couples want to be stress free on their big day. They also have the option to pick up the arrangements from our studio the day of the wedding or even the day before.
What advice do you give to brides when selecting their wedding flowers?
Choose the flowers you love. This is your special day where you can hold the bouquet of your dreams. If your favorite flowers aren't available (or are too expensive) your florist should be able to suggest a similar alternative. Keep in mind that using flowers in season is usually more economic
Any other information you'd like potential clients to know:
We have our Canmore Business License and are happy to deliver and set up flowers in Canmore/Kananaskis. Please contact us for a complimentary consultation http://www.flowersbyjanie.com/#!/page/204145/book-a-consultation
Find Flowers by Janie online:
Web: www.flowersbyjanie.com
Twitter: @FlowersByJanie
Facebook: Flowers-by-Janie
Pinterest: /flowersbyjanie
Instagram: @flowersbyjanie
---
Photography Credits:
Photographik, Kim Payant Photography, Nicole Sarah Photography, Abby +Dave, One Edition Photography, Tara Whittaker Photography, Kim Payant Photography