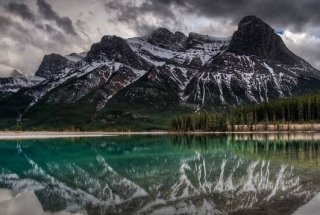 Top 5 Rainy Day Activities In Canmore
Adventure
Spring, Summer & Fall
Karen Fennell - May 27, 2016
June is usually the rainiest month of the year in Canmore, a time that many locals refer to as 'Monsoon June'. So what do we do when the sky isn't blue?
---
Luckily for us, Canmore and Kananaskis has a multitude of activities, attractions, stops and shops for any weather. Whether the rain makes you want to stay inside with a hot drink, or if you want to brave the elements, the Valley has something to fit anyone's taste.
1. Visit Unique Art Galleries
Canmore is an art enthusiasts paradise. The panoramic mountain views and lush natural beauty inspire local artists to create masterpieces. Walking along Main Street, you'll find incredible galleries like the bold sculptures at Carter-Ryan or contemporary landscapes at Fallen Leaf. Wander over to Spring Creek Mountain Village to find the quaint Studio 604. You can even drive up across the highway to visit artists working in their studios in Elk Run and witness everything from pottery, sculpture, jewellery and glass blowing.
If you're feeling encouraged by all the incredible art created in the valley, why not try to create your own? Visit Canmore's community arts centre artsPlace to sign up for a class, watch a movie or check out a performance.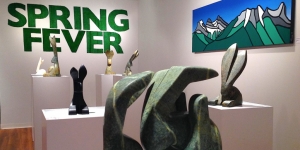 2. Adventure in the Rain
Not all adventure activities are effected by the rain! Canmore Cave Tours offers a day-long Adventure Tour that will bring you underground exploring narrow passages and repelling hidden cliffs! This is exactly the adrenaline rush you've dreamed of. Plus, its underground –so the weather can do whatever it wants.
If above-ground is more your thing, try paddling along the Kanananaskis River by doing family-friendly Whitewater Rafting. Don't let the rain stop you, as they say: "You'll get wet anyway!"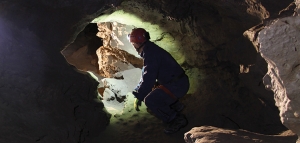 3. Reach new heights at Elevation Place
With both a world-class climbing wall, and an aquatics facility that is the envy of ducks and dolphins everywhere, the whole family is sure to find something to their liking. The climbing wall has no-rope bouldering, self-belay systems, or manual belay routes; whether you're experienced climbers or not you'll find fun and challenge. The aquatics center is home an 8 lane pool, a 2 lane warm up pool, a waterslide, a lazy river, a splash-and-play area, a fully accessible hot tub, and a steam room. With very affordable family rates, it's easy to do everything: climb for the morning and swim for the afternoon.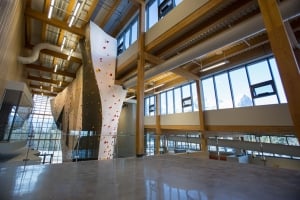 4. Learn about the past
Travel back in time and learn about Canmore's history. From a railroad town to the mining days, the Canmore Museum & Geoscience Centre is the perfect location to delve into the past. The new museum's brand new exhibit opened in March and offers a unique perspective on Canmore's history.
Visit other historic buildings downtown including the North West Mounted Police Barracks and imagine what Canmore was like before the 1988 Olympics transformed it into the outdoor adventure and mountain lifestyle destination that it is today!

5. Cozy up with a warm beverage or delicious snack
One thing Canmore isn't lacking is a plethora of places to eat and drink. Stay dry on a rainy day by enjoying a delicious beverage like a locally roasted coffee at Rave, a pot of tea from Communitea Cafe or a delicious hot chocolate at the Rocky Mountain Bagel Co. If adult beverages are more your style, you can enjoy a signature cocktail from Where the Buffalo Roam Saloon (locally known as 'The Buff') or enjoy a tour of the Grizzly Paw Brewery and learn all about the bear-making process in their state of the art brewery.
And for those who like a snack with their drinks- there's lots to eat in Canmore. With over 100 incredible restaurants, there's something for every taste. Stay warm inside and watch the raindrops fall as you enjoy an elk burger, pizza, curry, and other delicious comfort foods.
Although the rain can sometimes scare people away, 'Monsoon June' is the perfect time to come to enjoy all that Canmore has to offer.