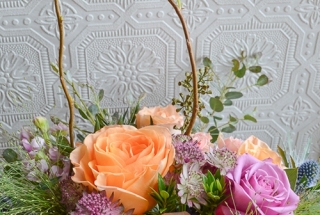 Tips on picking florals for a spring wedding
Some fabulous tips from Flowers by Janie on how to choose florals for your Spring Mountain Wedding.
---
1. Choose the spring flower that you like the best due to shape, colour, texture or perhaps fragrance. There are lots of options for in season spring flowers including: freesia, tulips, hyacinth, daffodils, muscari, irises, anemones, ranunculus and peonies. Remember many flower varieties are available year round including roses, hydrangea, lisianthus etc. Your floral designer will help you pick the best blooms for your budget and floral vision.
2.Keep in mind that some spring flowers have a higher price tag than others. If you are on a tight budget; tulips, freesia and daffodils might be the way to go. Keep in mind that tulips and daffodils shouldn't be mixed together as daffodils release a stem clogging sap that is harmful to other flowers but especially harmful to tulips causing them to wilt prematurely. A bouquet of a single flower variety can really make for a statement bridal bouquet.
3.Some spring flowers have a stronger scent than others. If you have a flower allergy or want to stay away from strong fragrances steer clear of hyacinths as they give off a very heady perfume. Freesia and peonies are also fragrant but not as powerful as the hyacinth bloom.
4. Keep your bouquet and other floral arrangements in a cool location away from heat sources before using as increased temperature exposure shortens flower longevity.
5.If you are hoping to keep you bouquet for a couple of days after the wedding be sure to re-cut the bouquet stems at the end of the evening and place in cool water.
Visit Flowers by Janie online: flowersbyjanie.com