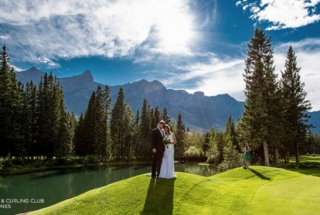 Top 6 wedding photo locations in Canmore and Kananaskis
It's hard to find a location that doesn't boast postcard-worthy views in Canmore Kananaskis. Whether it's stunning turquoise lakes or rolling mountain meadows amidst the backdrop of the iconic Three Sisters mountain — we can help you find the location that will make your wedding photos extraordinary.
#1 Quarry Lake
Quarry Lake is a local favourite because of the stunning turquoise lake and the towering peaks of Mount Lawrence Grassi and Rundle Mountain. Use the lake as the backdrop and then wander down the trails behind the lake and be surrounded by a vast alpine forest.
#2 The Old Railway Bridge
A part of Canmore's mining-town history, the Old Railway bridge has been converted into a pedestrian bridge across the Bow River. Make sure you take a break and allow pedestrians and cyclists to pass! The bridge is accessible from multiple trails, and there are numerous photo opportunities along the way.
#3 Three Sisters Lookout
Found along the Three Sisters Parkway, near the WorldMark Hotel, Three Sisters lookout features panoramic views of the Bow Valley and the Fairholme Mountain Range.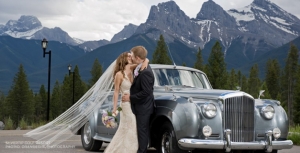 #4 Policeman's Creek
Located next to downtown, Policeman's Creek has beautiful wooden boardwalks that run through the creek with many spots for great photos. You'll feel like you're far from civilization – yet steps away from downtown.
#5 Whitemans Pond
If you can brave the bumpy gravel road up the mountain, Whitemans Pond is a pond nestled into the side of a large rock face and is protected from the wind, giving it a glass-like reflection.
#6 Mount Lorette Ponds
Located along Highway 40 in Kananaskis, Mount Lorette Ponds features spectacular views of Mount Lorette and a wooden dock on the pond.