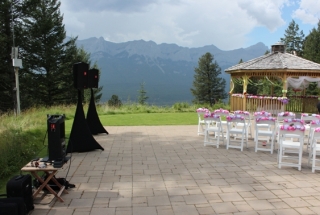 Sound of Music… and voice for your ceremony
Shanna C - August 21, 2015
Mountains of Inspiration
Since the beginning of time, well this century for sure, travellers have come to the Canadian Rockies to be inspired and awed, and then to share their appreciation with others. So it is today as many couples from near and far come to Canmore to celebrate their nuptials with invited family and friends.
And what more inspiring a place for your wedding ceremony then an outdoor or indoor location with picturesque views of magnificent, sprawling mountain ranges. But is it enough to stand at the front and say I do? How can you be sure you've made the most of this moment for those who've traveled near and far to be witness to your vows?
A great moment takes preparation and planning, and one key ingredient is a reliable audio presentation. Whether your ceremony is indoors or out, audio support ensures everyone present will be touched and moved by this once in a life time occasion.
Music and Voice to Move Mountains
Audio entails music and voice, an officiant reciting your vows, reading personally prepared vows, a family member presenting a poem, , music during the processional, signing of the register and recessional. Maybe pre ceremony music to set the mood before your ceremony begins.
Ambient noise can rob your guests of what's being said, or maybe a reader is soft spoken and not accustomed to speaking before a large gathering. For the officiant, a mic allows for vocal inflections and tonal gesturing. Imagine your officiant SPEAKING LOUDLY SO EVERYONE CAN HEAR… NOT VERY ROMANTIC, nor moving.
And what of your music? Ceremonies are an emotional time and rightly so. You've spent time and energy deciding which songs will best represent your joy on this day, but when the music plays on that 15 watt Bose Home Music System designed for your cousin's apartment front room, or a house ceiling speaker sound system that sounds more like a tin can…. the moment arrives and nothing magical happens…. no bang, no heart strings resonating with joy and heart felt emotions, O.K. I'm working it a bit, but you get the gist. When the music plays it should be full and exciting, a fanfare, an announcement that you've arrived and are ready to walk down the aisle. To accomplish this you're going to need a PA with some power.
Having audio support in place allows your many guests to hear, appreciate, and most importantly be connected with each moment of your ceremony.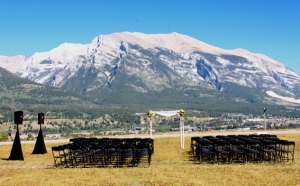 ---
Good to Know, Now What?
Great news! Most DJ companies provide wedding ceremony services that should meet your basic needs. Keep in mind though not all companies are equal in this regard. So to help you establish a base line reference point I've listed what to look for in meeting a basic criterion:
• Wireless clip mic, at a minimum one for your celebrant or officiant, after that one for you and your fiancée (either one each or one between you)
• A wireless handheld mic with stand, should a family member or other be presenting a poem or verse
• A PA (two speakers and a mixer) with a enough power (sound output) to provide music at volume without strain or crackling noises.
• Speaker stands dressed with skirting verses a tripod scratched and dusty from many seasons of use, cords neatly managed verses dangling about. (Elegance and presentation shouldn't stop with your audio service provider)
• If outdoor at a remote location, battery powered system with back-up battery, avoid gas generators or anything that's going to make noise, or create an odour.
• Your service provider should be able to provide a pre event planning form to list the songs and their order. He/she should be on hand to manage your audio requirements.
• Music playback system such as a laptop/iPod and back-up system should something go wrong with the first player
Live Music to Move More Mountains
If planning on live performers discuss with your performers what they feel they require, but also discuss this with the audio company as they will need to ensure they have the added equipment to meet their needs should they have any. Once again sound levels should be such that ALL can hear the music and not just those closest to the performer.
A Word about Weather, Mountains and Your Outdoor Ceremony
Have a plan B. When first I arrived in the mountains I learned this. "If you want to survive while in the back country, be prepared to turn around and accept that you may have to abandon your original plans". We see many sunny days, but sometimes it rains, this is a good thing or we'd be more like Arizona with many shades of brown. Here in the mountains the weather can sometimes change from sunny to rainy. The last thing you want to do is expose your family and many guests to an afternoon rain shower… especially if your location is removed from immediate shelter.
Your guests have traveled far and wide to be with you, recognize and accept plan B if the weather is proving unpredictable, indoor will keep the stress meter at low both for you and your guests.
And… if it's a sunny, rainy, sunny, rainy kind of day, and your plan is to hit that sunny window, don't be late because that awesome window of sunshine won't wait for you before thenext rain shower arrives.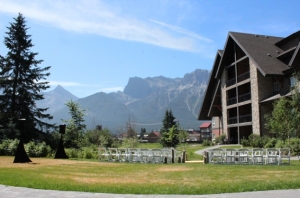 ---
About the Author
DJ Ben operates Livin' & Dancin' DJ Services (www.banffcanmoreDJ.com) located in Canmore. Now entering his 7th season as a full time mobile DJ, Ben offers a variety of services with a focus on playing the right song at the right time while being interactive and engaged with you and your guests.