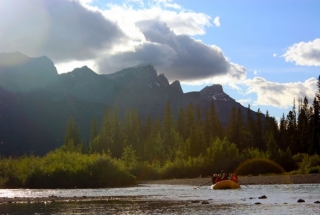 Scenic Bow River Float Tours in the Canadian Rockies
Karen Fennell - July 6, 2016
​Canmore is home to two brand new companies offering float tours along the Bow River every day this summer! Enjoy a scenic, peaceful ride through Canmore and experience the natural beauty of the Canadian Rocky Mountains along the way.
---
The mountains can be appreciated from so many different vantage points. Soaring over the snow-capped peaks in a helicopter, grasping the sides of craggy rock walls when rock climbing, or squeezing beneath stalactites in a cave.
Now there is a new perspective to view the mountains.
Sitting back in a raft, floating gently, surrounded by incredible vistas, unique flora and fauna and hearing the sounds of a slowly meandering river.
A Scenic Float Tour down the Bow River through Canmore!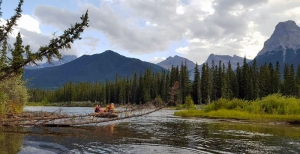 ---
Canmore is home to two brand new companies offering scenic float tours along the Bow River every day this summer.
Whether it's a short 1-hour introduction or a 2.5 hour Explorer Tour, enjoy floating in the morning, afternoon or as the sun starts to set on an evening tour.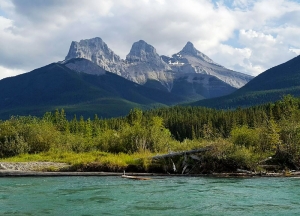 ---
Float tours are the perfect soft adventure where you can listen to knowledgeable local guides talk about wildlife, plant life, Canmore's mining history, and the way the river has developed and sustained the people who have lived around it over generations.
The guides paddle down the river with expertise allowing you to sit back and enjoy the experience and the landscape. Unlike it's more extreme brother, Whitewater Rafting, on a float tour, you don't get wet and aren't subject to any rough rapids, just serene gliding along the clear blue waters of the Bow River. A perfect opportunity to bring your camera and take some amazing pictures.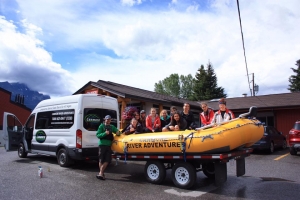 ---
Both companies have inflatable rafts that are mounted with an oar frame at the back and carry comprehensive first aid kits and communication devices. All equipment is provided for you and your guide is certified in water rescue and first aid. Each tour comes fully equiped with everything needed, so all you need to do is sit back and enjoy!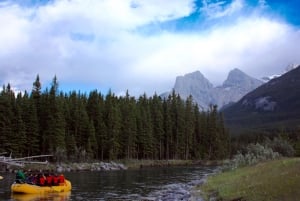 Whether you're looking to unwind after a long hike, or looking to enjoy some fresh air after a scenic drive, float tours are the perfect relaxing activity in which to enjoy breathtaking scenery and even better company.
Book your scenic float tour today with Canmore river adventures and Canmore raft tours!
---
Bonus Insiders Tip!
You can even bring your dog!
At select days and times, Canmore Raft Tours has a special float tour where you can bring your dog.
$5 from each seat booked is donated to the Bow Valley SPCA! Neat huh!
Contact them to book your pooch on the next available paw-friendly tour.