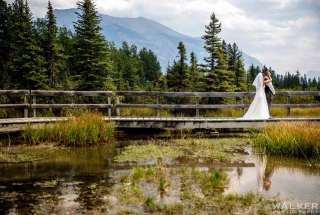 Real wedding: Sarah and Mike
Shanna C - September 21, 2015
Sarah and Mike got married in Canmore on August 29, 2015.
---
Their Ceremony took place at the Stan Rogers Stage and their reception was at the Cornerstone Theatre.
Sarah and Mike's wedding was absolutely magical. We were so nervous heading to Canmore for their wedding, because of the forest fires in the states, the mountains were so filled with smoke you could hardly see them.
Sarah and Mike did a first look before their ceremony, and at the moment we finished doing family photos and the two of them stood alone together, the sun broke through the clouds and created the most incredible light we have ever seen. Then, during their ceremony, it was calm and beautiful, but at the moment they shared their vows, the wind gusted through and for 5 minutes it rained, and then out of no where, it all stopped and went calm again.
Photographer: Walker Photography
Ceremony Venue: Stan Rogers Stage – Centennial Park Canmore
Reception Venue: Cornerstone Theatre