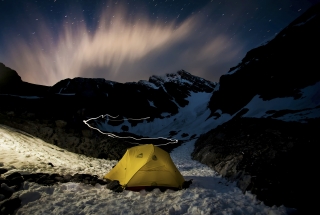 Kananaskis – For Every Type of Camper
Karen Fennell - June 25, 2019
No two people are the same and Kananaskis has camping options that are suitable for every type of camper. If you're looking for all the comforts of home nestled in the Canadian Rockies, there's a spot for you. If you're looking to be one with the wildlife and reconnect with nature, there's a spot for you. No matter what type of camping experience you may be searching for, it's located right here in our backyard.
---
Glamping
/ˈɡlampiNG/
noun
noun: glamping
a form of camping involving accommodation and facilities more luxurious than those associated with traditional camping.
"glamping is likely to satisfy any city slicker seeking a little refuge in nature—without foregoing any of life's luxuries"
Recently, Mount Engadine Lodge has done a major renovation to their lodgings and created a handful of beautiful glamping tents. These amazing canvas tents feature comfortable beds, wood stoves, and gorgeous views. If you're looking to spend some time in the wilderness that is Kananaskis, but you don't want to camp, Mount Engadine's glamping tents are for you. If these tents are fully booked during the time you are looking to stay, check out Sundance Lodges and stay in one of their beautiful tents.
RVing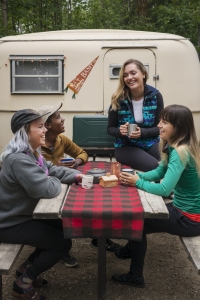 While buying an RV or campervan can be quite an investment, it is a great way for camping fanatics to have a more comfortable camping experience which can last you well into your years. There are two types of RV camping: parking at a campsite, or boondocking. The latter has become the more popular way to camp recently, as it costs nothing to park in the middle of nowhere. The elder generation or those looking for something a bit closer to glamping may choose a campsite with showers, water and electrical, and bathrooms, while those who are boondocking will rely on solar, generators, and 'living off the land' so to speak. When boondocking, be sure to test the water or purify it before utilizing for cooking or drinking – and make sure it is potable. While there are few places to boondock in the area, there are plenty of campsites with amazing mountain views and large lots. We recommend the Canmore Bow River Campground, Mt Kidd Campground, or Spray Lakes Campground.
Car Camping
Also known as frontcountry camping or tent camping, and is best for families, budget campers or casual campers. One of the most common types of camping; car camping involves packing your vehicle to the brim, driving to a place where you would like to camp (and is legal to camp), and setting up your humble abode where you will waste the night away watching the constellations and eating too many s'mores. Campground costs are generally very affordable, which means car camping is great for large families or those individuals who would like to travel cross-country. There are quite a few campsites in the area that are great for car campers, including the Kananaskis Lakes Campsites. Take a beautiful drive out on Highway 40, and reach your destination far from civilization.
Wild Camping
One of the few lightweight (and stealth) ways to camp — this type of camping is most often referred to as wild camping. Be sure to read up on the legality of 'wild camping' in the area you have chosen for your bivvy. Cost-wise, bivvying is very cost effective and the most light-weight option for backpackers.
A super lightweight option for backpackers, hammock camping is a great minimalist way to travel great distances. All you need is two trees to tie your bed to, and you're good to go. Most hammocks come with a rain tarp, and keep you mostly shielded from the elements. You can pay as little, or as much as you wish for your hammock, and the price range will vary depending on what you need. The best part? You won't need to find flat ground to lay your bed out on, and your body will thank you for avoiding sleeping on a rock all evening.
For both of these options, you may need a backcountry permit for Kananaskis country, so check in with the Kananaskis Park Rangers. Our favourite backcountry camping sites include Lilian Lake and Aster Lake.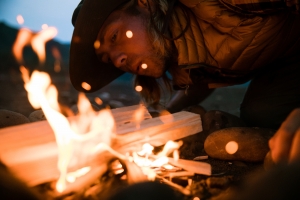 ---