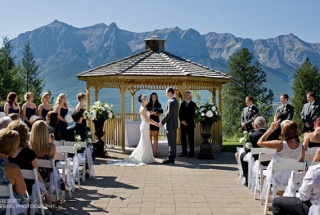 How To Wow Your Guests – 13 Activities For Visiting Friends & Family
Karen Fennell - May 22, 2013
You've brought your guests to one of the most beautiful places in the world – help them make the most of their time here and experience the best that Canmore Kananaskis has to offer.
---
1. Heli-Tour of the Rockies
Tour the Canadian Rockies and get a new perspective on the size and the beauty of the mountains. See glaciers, mountain ranges, rivers, and lakes that only a few have seen! Both Alpine Helicopters, Kananaskis Heli Tours offer these great trips.
2. Take a hike
Canmore Kananaskis is known for offering some of the best hikes in the Canadian Rockies. Take your guests to Grassi Lake and pack a picnic, or take your more adventurous guests up the steep climb to Ha Ling Peak. Check out our hiking guide for more information. You can also take a guided group hike from Canadian Wilderness Expeditions, Yamnuska Mountain Adventures, White Mountain Adventures, and Inside Out Experiences.
3. Cruise the Wildlife Drive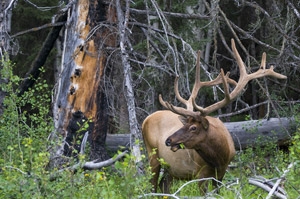 Kananaskis Country is surrounded by towering mountains and breathtaking wilderness, as well as abundant wildlife including bear, moose, elk, deer, and mountain sheep. The best time to spot wildlife is in the early evening or early morning. Drive carefully as wildlife are frequently on the road. NEVER leave your vehicle to approach wildlife.
4. Go Caving
Caving is a fantastic activity that can be enjoyed year-round! The internal temperature of the caves remains constant even in Winter! Take you for a natural history tour of the Rat's Nest Cave, under Grotto Mountain. Tour the 4km cave created by the meltwaters of ancient glaciers. From Canmore Cave Tours.
5. Whitewater Rafting
Show your guests the ultimate Rocky Mountain thrill ride and raft the Kananaskis river. Enjoy stunning scenery as you and your guests experience the power of the glacier-fed river.
6. Golf the Rockies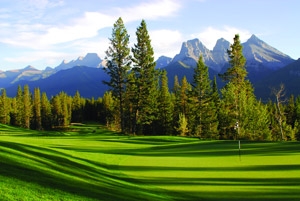 Canmore Kananaskis features 5 incredible golf courses. Take your golf game to new heights and enjoy some of the most spectacular scenery in the Rockies.
7. Horseback Riding
Gallop through spectacular scenery on horseback. Canmore Kananaskis is home to several ranches and incredible trails. Your guests will love this authentic Alberta experience! Horseback tours available from Rafter Six Ranch, Cross Zee Ranch or Boundary Ranch.
8. Spa Day
With its spectacular mountain beauty, Canmore Kananaskis makes for the perfect setting to relax and unwind. Discover the area's incredible spas and wellness centers.
9. Oh Canada Eh? Dinner Show
Show your guests an evening of Canadian culture, laughs, and great food. From Cornerstone Theatre.
10. Go Backpacking
When you truly want to explore nature – head to the backcountry. Take your guests on your favourite trail or hire a guide to help you discover scenery that only a few get to see. For guided expeditions check out Yamnuska, CW Expeditions, White Mountain Adventures, or Kananaskis Outfitters.
11. Host a Western Welcome Barbecue at Cross Zee Ranch
Welcome your guests in true Albertan style with a western welcome BBQ at Cross Zee Ranch. Their facility can host up to 300 guests and offers horseback riding, authentic BBQ, and old-fashioned barn dances!
12. Take an Intro to Rock Climbing Course
Yamnuska Mountain Adventures can teach you and your guests how to rock climb! An unforgettable experience that might inspire a new hobby!
13. Dog Sledding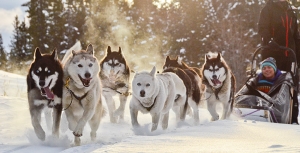 Dog sledding is a Canadian experience that can't be missed. Feel the rush of adrenaline as the dogs mush through the scenic Spray Valley. Canmore has 3 incredible dog sled tour companies: Howling Dog Tours, Mad Dogs and Englishmen Expedition, and Snowy Owl Sled Dog Tours.
14. Host a Brewery Tour
Take your guests for a brewery tour of the Grizzly Paw Brewery. Sample their microbrew beers and hand-crafted sodas as you experience first hand the passion that the brewers put into their product.