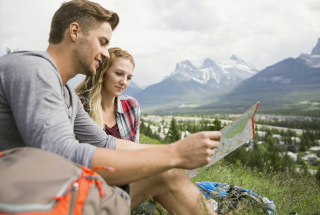 How to enjoy Canmore and Kananaskis during COVID-19
Tourism Canmore Kananaskis - May 14, 2020
We understand you want to get out and enjoy the mountains again, but we ask you to do so safely and responsibly. If you do come, we ask you to help our community with these tips.
Keep Canmore and Kananaskis Safe – if you are feeling ill, please delay your travels a little longer. Wearing face masks to keep others safe is appreciated and mandatory in public indoor spaces in the Town of Canmore.
Call ahead: If you are planning on visiting your favorite store or restaurant, call ahead to make a reservation. This way you know if they are open and have an understanding of the policies they have in place to keep you and our community safe.
Open for business: Want to know what is available? A list of businesses with opening information can be found here. You can also give our Visitor Center a call or send an email.
Come with a backup plan: Chances are you are not the only one enjoying Kananaskis this weekend, so if you arrive at the trailhead and find a full parking lot, continue to your backup hike. Hiking options can be found here.
Respect others: While you are out enjoying the great outdoors or downtown Canmore, ensure you are giving others the 2 metres/6 feet space required by the Alberta Government. Step off the trail if necessary and communicate with other parties. A smile, wave or thank you goes a long way!
Wildlife safety: Summer is here, the bears are out and our other wildlife friends are happily enjoying their home. Leave enough space for wildlife, make noise, and don't forget your bear spray.
Traffic Interruption: Road construction is taking place at Canmore's busiest intersection. Avoid delays and get the latest information on road closures here.
Hiking anyone? Pack out what you are taking in: Bring an extra bag to dispose of your garbage.
Be cautious: Help our first responders by not getting injured. This is not the time to take risks. Enjoy the outdoors but do so carefully.
Enjoy! Breathe in that fresh mountain air and have fun out there.