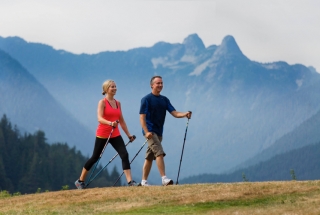 Experience Nordic Walking in Canmore
Mandy Johnson - August 29, 2019
A More Engaging Way to Walk
Canmore has long been recognized as a national training centre for two Nordic sports: cross-country skiing and biathlon. Now Canmore is where you can experience an exciting new Nordic activity, Nordic walking. This year-round activity mimics the actions of Nordic skiing, but without the skis. It transforms a simple walk, which primarily uses the muscles of the lower body, into a turbo-charged activity that uses virtually every muscle in the body. 
The Workout for Everyone
Nordic walking is immensely popular throughout much of Europe; however, it has been slower to catch on here in Canada where it is still often assumed to be an activity only for older adults or those with mobility issues. If you ask a Nordic walking expert, this assumption is totally inaccurate! However, Nordic walking does have many additional benefits that make it ideal for older adults. The elite athletes who train here year-round exchange their winter skis for roller skis and continue training with poles in their off-season. You will also find them on the hiking trails with their poles, ski striding or hill bounding to continue their full-body training.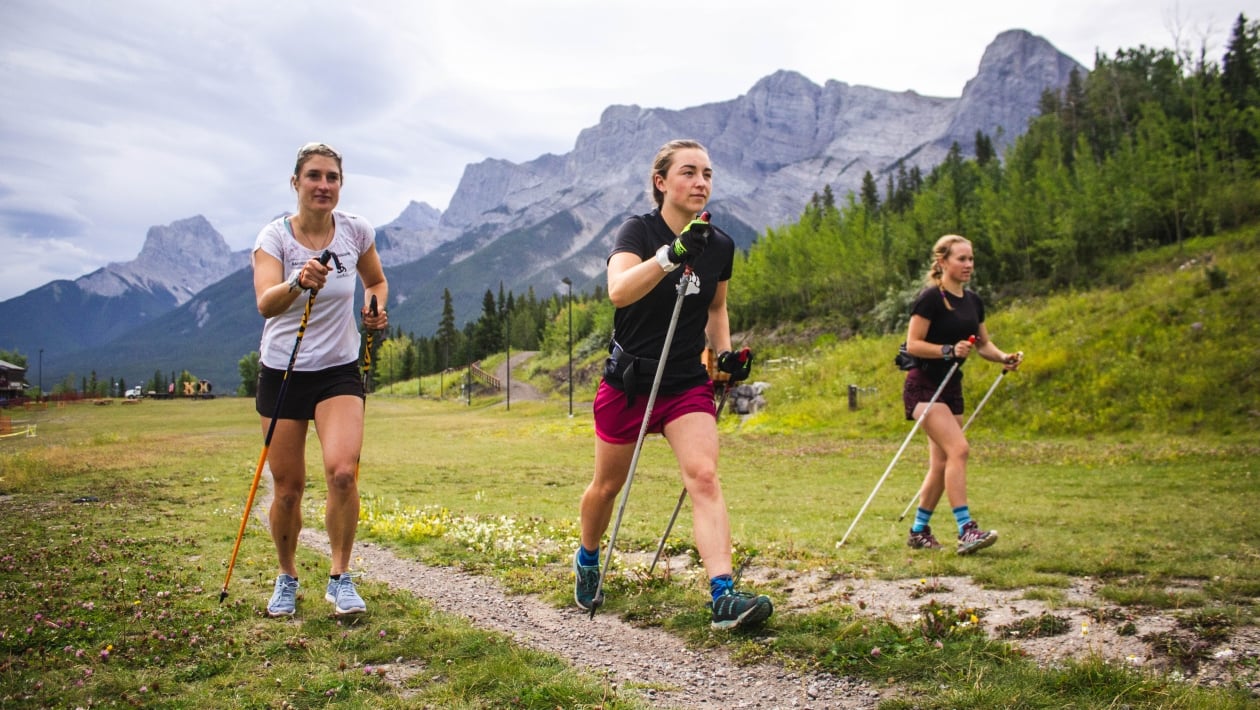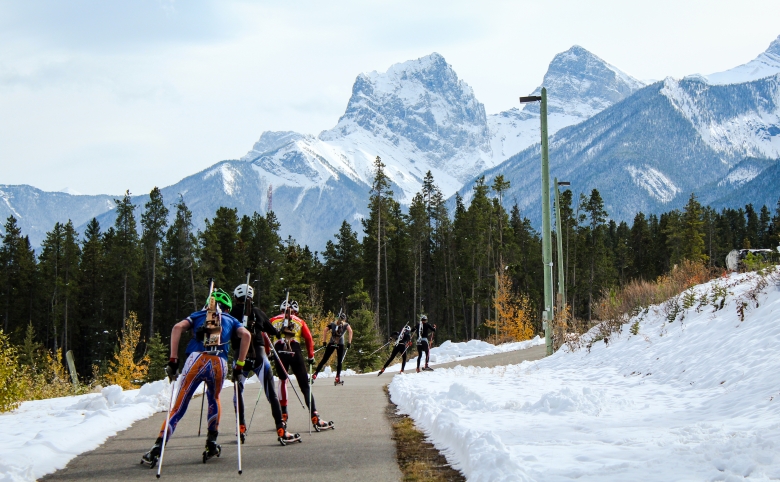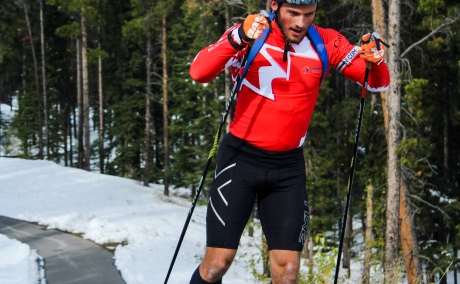 For many athletes, training using poles is a great way to keep their key muscles engaged in the off-season, or between visits to the gym.
What's in a Pole?
Another misconception is that Nordic walking is the same as hiking with hiking or trekking poles. Wrong! There is a technique to be learned and special features that Nordic walking poles have. It is this very specific technique that takes a bit of practice to learn in order to engage the core muscles with every step taken. When you walk a kilometre using proper Nordic walking technique you will contract your abdominals over 1,000 times! Nordic walking poles have been designed to absorb the shock of repeatedly planting them on the hard surfaces of paths and paved recreational trails. In addition to making every stride smooth the boot-shaped tips grip the ground and assist with the powerful propulsion the arm action generates. So while you can remove these boot tips and take Nordic poles hiking, the reverse is definitely not true.
Tours, Tips, and Tales
Active by Nature provides Quick-Start walks (1.5 hours long) on Canmore's scenic network of paths and recreational trails to introduce guests to the basic technique. Sessions start from the Malcolm Hotel and walk along Policeman's Creek and the Bow River. Before long, people have mastered the skill and the talk turns to information about Canmore and the surrounding Rocky Mountains. Two-hour walks are also available. Monthly Nordic walking hikes are scheduled on some of Kananaskis Country's spectacular trails.
Custom hikes for groups of four or more are available at any time. Nordic walking is a perfect winter activity therefore sessions continue year-round, sometimes adding ice grippers or snowshoes.
Owner/operator Mandy Johnson has been thrilled to share her "passion for poling" with people from across Alberta, across Canada and around the world this year, stating, "This activity is one you just have to try to understand how fantastic it is and there can be no better place to do it than right here in Canmore surrounded by these awesome mountain peaks with such an incredible network of walkways and trails!"