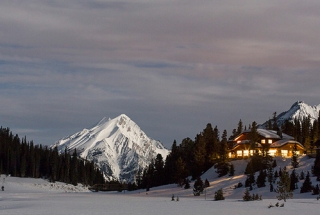 Christmas in Canmore Kananaskis
Tourism Canmore Kananaskis - December 18, 2018
It's the most magical time of the year, and the mountains are calling. What better way to spend Christmas, than in a cozy cabin nestled in the Canadian Rockies, exploring with family.
---
It's no secret that there are plenty of things to do in Canmore Kananaskis and that Christmas in the mountains is the most magical time of all the seasons. The lights are hung from the lamp posts with care, the shop windows are decorated with Christmas trees, snowflakes and reindeer and the smell of Christmas baking wafts through the air. If you have yet to make Christmas plans, or your previous arrangements have fallen through, we recommend you pause, and take a drive to the Canadian Rockies for Christmas.
Once you've booked your stay, you'll need to look at things to do, and like we mentioned before… there is an abundance of options. To get you amped-up and in the Christmas spirit, we recommend heading to the Malcolm to view the Canmore Rotary Club's Festival of Trees. With decorations galore and gingerbread houses so intricate they'll knock your socks off, this is a great first step into the Canmore Kananaskis Christmas.
Next, you'll want to look at booking your excursions. On warmer winter days we would opt to head out on a snowshoe hike in Kananaskis, dog sledding, or skating. If it's a bit more on the chilly side, opt for an activity which will get your blood pumping like cross-country skiing or fat biking. If you want to enjoy the town a bit more, look into booking with Adventure Hub, which is a fun way to learn and explore in Canmore.
Since you traveled from afar, you likely didn't lug everyone's Christmas gifts along with you. The good news is that there are plenty of shops in town to help you tick off those boxes on your shopping list. From unique stores like Alberta's Own Marketplace, Tin Box, Stonewaters, Lifeways, Café Books and Twelve-21 to clothing stores like Blue Moon, Indigo Bay and Toccata for Her, and Valhalla Pure you won't miss anyone on your list.
After such a long day, you are probably ready for a long, hot bath. Head back to your hotel and go for a luxurious soak in the hot tub. For epic mountain views, we recommend staying at Basecamp Resorts, Copperstone or Stoneridge. Each of these hotels has an outdoor hot tub, sure to help you soak away the day. After you go for a dip, dining is up on deck and we have some great choices for every palate.
From sushi, to casual pub-style dining or the more classic fine-dining, Canmore has restaurants to fit the bill. Marra's Way is our sushi bar of choice; for pub fare, we recommend The Grizzly Paw, Iron Goat or The Wood; for bits and bites we recommend Tapas; and for fine-dining, you should definitely choose Sage Bistro, Murrieta's, or The Trough. If you're looking for breakfast after an early morning run or workout session, you may have some trouble choosing where to go. There are plenty of options around town, and each is just as good as the last. If you're looking to snag something for dessert later on in the evening as well, we definitely recommend picking something up beforehand at JK Bakery or le fournil.
All in all, there is plenty to do and see in Canmore Kananaskis, and while you can definitely relax on your Christmas Holiday, there are activities to do if you're more of an on-the-go vacationer. If you are seeking more information on activities, check out our blog "20 Things to Do in Canmore in the Winter".
No matter what your plans are this holiday season, we wish you all a very Happy Holidays!
---