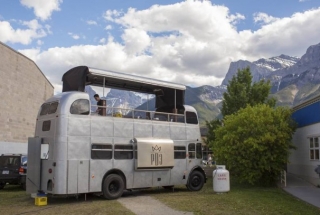 Canmore's New Double-Decker "Food Truck"
Food & Drink
Uncategorized
Karen Fennell - June 18, 2015
Canmore's culinary scene has a new addition in the form of a 1960's double-decker British bus – PD3 by Blake.
---
Named after the bus' model number (a Leyland PD3), this Asian-style food truck by day, fine-dining food truck by night can be found right off Main Street in Canmore next to Bow Valley Credit Union. The 16-seat upper deck boasts fantastic views of the Three Sisters and the Fairholme Range, a full-service bar, and is heated (for those cooler Rocky Mountain evenings).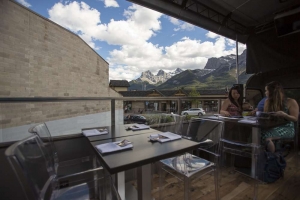 ---
I was invited to the opening night of PD3 and took the first reservation I could get. When we arrived, we were treated with a glass of prosecco and shown our seats. Every table has a view, and despite the small footprint, the upper "saloon" has plenty of space to move around. The tableware set the stage, with exotic touches like rose-gold cutlery and unusual glassware.
The prix-fixe, four-course World Fusion menu contains creative takes on popular dishes, like the Blake & White Burger with a jet-black bun infused with charred-onion, potato churros, and the deconstructed "cottage pie" with beef tenderloin.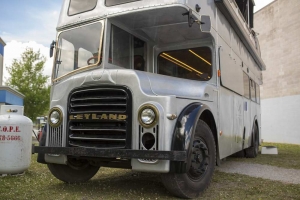 ---
We were served during pre-set seatings, with everyone's dishes arriving closely together. We all gawked at other table's dishes and shared our first impressions. The neighbouring table was generous enough to trade samples with us so we got to experience a few extra flavours.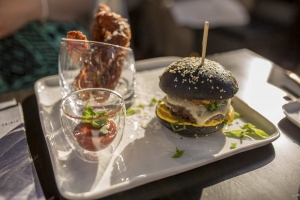 ---
Each dish was presented with creative new flavours and exotic ingredients that created a surprising and highly enjoyable dining experience. Chef Blake has created a menu that will give your taste buds a run for their money.
Reservations are recommended and PD3 offers set seatings at 5pm, 7:15pm, 9:30pm and the lower saloon food truck is open daily from 12-4:30 (except Wednesdays). Expect to see PD3 on Main Street until October.
Visit PD3 by Blake for reservations and menu.
---