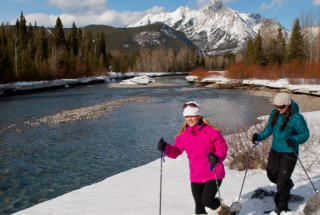 9 Winter Activities in Canmore and Kananaskis
In case you're wondering where the fun should start, try our list of can't-miss winter activities.
When the weather in Alberta is cooling down, things are really starting to heat up in Canmore and Kananaskis. This beautiful little mountain town really comes to life once the snow starts to fall.
#1 Dog Sledding
Sometimes, it really is about the journey instead of the destination — that's certainly the case when you trade high-powered motors for a team of sled dogs. Experience dog mushing at its best while moving in comfort while you make your way through snow-packed trails, valley descents, and so much more. Explore tour availability with Mad Dogs & Englishmen Expeditions or Howling Dog Tours and enjoy an experience that will stay with you forever.
#2 Skate & Shop in Downtown Canmore
Show off your ice skating skills at Canmore's famous downtown Pond. Just two blocks North of downtown Canmore on 7 Ave, the downtown pond hosts numerous winter events and festivals. There's even a heated gazebo for lacing up your skates and warming up. It's the perfect place to play a little hockey, go for a romantic skate, or take the kids. While you're downtown, make sure to check out the latest mountain styles at Liberty Clothing or Moutain Mercantile or peruse the stunning sculptures and works of art at the Carter-Ryan Gallery.
#3 Snowshoeing
If you prefer peace and quiet, a romantic walk, or just a leisurely way to take in the mountain vistas, snowshoeing might be just for you. With a number of trails and circuits for every skill and fitness level, it's a relaxing and affordable way to enjoy alpine beauty at its best. We'll even provide you with instructions and lots of route maps at our Visitor Centre so you'll be comfortable even if you're a snowshoeing beginner. Pick up your snowshoe rentals from Kananaskis Outfitters – you can even book a tour if you'd rather go in a guided group!
#4 Heli-Tour
The Rocky Mountains look stunning draped in fresh white snow. See the mountains from a new angle and take a heli-tour with Alpine Helicopters. You'll see mountain passes, frozen lakes, and terrain that few people get to see.
#5 Snow-Tubing
Whether you've tried on a pair of skies or not — snow tubing is an exhilarating way to enjoy the slopes. Sitting in your inflated tube you'll feel a rush of adrenaline as you cruise down the mountain on groomed tube runs. Race your friends or team up for even more fun! Try it this winter at Nakiska Ski Resort.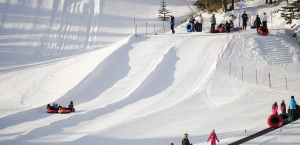 #6 The Winter Carnival
The Canmore Winter Carnival is a celebration of the season and a popular community tradition for more than 20 years with events including ice carving, snow sculpting, family fun, and more. The Carnival runs from February 13 – March 1.
#7 Ice Walking
Inside Grotto Canyon, take an ice walk on a frozen creek bed through a towering canyon to a beautiful ice-covered waterfall. Explore the area yourself or take a guided tour.
#8 Cross Country Skiing
Since hosting the 1988 Winter Olympic Nordic events, Canmore has become known as one of the world's best cross country skiing areas. The Canmore Nordic Centre provides over 100 different groomed trails and cross-country ski rentals are available on site. As you glide the trails you might just bump into a current or future Olympian!
#9 Caving
Under Grotto Mountain is an extensive network of underground caves. Regardless of the season, the caves maintain a 5°C (41°F) temperature. Book your one-of-a-kind adventure with Canmore Cave Tours to explore this exciting underground world – etched and sculptured over hundreds of thousands of years – through twisting passages and chambers of stalactites & stalagmites, animal bones and fossils.