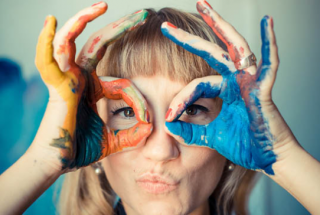 ArtsPlace – Canmore's Community Arts Centre
Karen Fennell - November 5, 2015
Long have the Canmore Kananaskis vistas caused people to bubble over with artistic inspiration. The unique mountain atmosphere taps a well of creative spirit; painters, sculptors, musicians, dancers, and creators of all ilk have channeled the flow of alpine energy to make countless masterpieces. Now there is a place to further navigate the mountains'creativeness; together – makers and enthusiasts alike. Now there is artsPlace.
---
What is artsPlace?

artsPlace is the newly renovated creational hub of downtown Canmore. Located conveniently on 8th avenue, artsPlace is open to the public and pros alike, offering an eclectic space for creation and exploration.
What can I do at artsPlace?
artsPlace offers a wide variety of programming. Family Classes offer activities for all ages –from puppet making to cookie jar decorating- stimulating imaginations young and old. Recurring workshop classes provide weekly first stepping stones for new hobbies such as painting, jewelry making, or pottery. One-off events are also offered, for those just wishing to try something new, or for those just passing through.
In addition to classes, artsPlace has space and studios for rent. From a quiet place to paint or a space to rehearse artsPlace has what you need.
artsPlace shows pre-release films and special presentations in its intimate theatre. Come watch your favorite movies before they are available for purchase, or catch a special screening of theatrical performances, indie films, and more! The theatre is also used for live performances: be sure to check the artsPlace website regularly for programming and rates!
Want more artsPlace? Find all this and more at www.artsplacecanmore.com
---
Article by:
Ben Krausert – Travel Counsellor 
Ben is a lifelong Canmore local, with firm roots in the community. When he's not hard at work at the Visitor Information Centres, you can find him playing music around town, or volunteering for the Folk Music Festival.
Photo Credits: www.artsplacecanmore.com / www.facebook.com/CMAFab