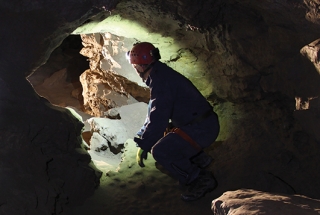 An Underground Adventure – Canmore's Grotto Mountain
Karen Fennell - March 10, 2016
Beautiful mountain scenery surrounds Canmore from every vista but have you ever wondered what it's like to experience the mountain from the inside?
---
I headed underground with Canmore Cave Tours into Rat's Nest Cave at Grotto Mountain for an unforgettable year-round subterranean adventure… I am not going to lie – I was ever so slightly apprehensive at the thought of caving. What happens if i find out i'm claustrophobic? Do people ever get stuck down there? Do i need to get all of my affairs in order before i go?
Before the mind monkeys started to play tricks on me, I was reassured by Canmore Cave Tours and advised to check out their website ahead of booking. Once i had familiarized myself with the itinerary for the 4.5 hour Explorer Cave Tour and knew what to wear and bring – i was raring to go!
Our group met at the Canmore Cave Tours Head Office, where our guides Max and Diana gave a safety brief and kitted us up with coveralls, kneepads, gloves, harnesses, ropes, helmets, and headlamps – all of which neatly packed away into the provided back pack. It was a short 5 minute drive in convoy out to the trail head and a 20 minute hike up Grotto Mountain (elevation gain 200m) to the cave's entrance, with stops along the way to enjoy the scenery (or catch your breath), and take in the geological history of the surrounding Rocky Mountains.
We geared up outside the cave entrance, and in small groups of 8 people plus our guide, made our way into the darkness of the cave entrance with our headlamps on full beam.
It soon became apparent why the Cave was named 'Rat's Nest Cave' with evidence of nests and droppings – the cave is home to the bushy tailed wood rat. With over 4km of passages and a pleasant year-round temperature of 4.5 degrees, this limestone cave system carved out by water during the glacial period, is very much in its wild and natural state. If you're looking for man-made concrete paths, overhead lighting or handrails – you've come to the wrong place.
Through various methods of descending (climbing, shuffling, crawling, wriggling, sliding – you get the idea!) we made our way down to the bottom of the cave via the Grand Gallery (the largest room in the cave system) until we reached the Grotto – a chamber full of stalactites and stalagmites with a clear pool of water at the bottom. Unless you are equipped with scuba diving gear this is as far as you can explore.
'Stuck' was one word we were not allowed to utter out loud. 'Temporarily wedged' on the other hand – along with occasional profanities – seemed perfectly acceptable and these certainly came in handy during the optional 'squeeze' challenges. Another challenge was exiting the cave as our guide took a (temporary) step back and watched us disorientated, trying to work out which way we had come in!
Would I do it again? Absolutely! This really is a unique experience and should be at the top of everyone's must-do list (for locals and visitors alike). This is not your average tour and perfect for those wanting to escape off the beaten path.
For more information on Canmore Cave Tours visit http://www.canmorecavetours.com