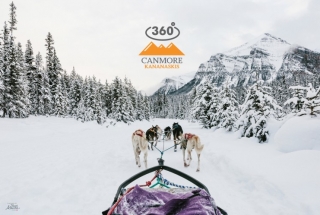 A Changing of Seasons in Canmore Kananaskis
Karen Fennell - November 15, 2018
Winter in Canmore-Kananaskis brings many wonderful activities and adventures to be had, with no lack of choice!
---
Canmore Kananaskis has reached the seasonal turning point, and the end of shoulder season is in sight. With November 1st rolling in as gently as an autumn leaf floating to the ground from the limb of a tree, most of the locals have begun tuning up their winter gear. As the first flakes began to fall this month, we're sure some have even begun pulling out their Christmas decor. But hey, who are we to judge? We're right there alongside them.
Winter in the Rockies brings many wonderful things; but for most, winter sports are looked forward to the most. Canmore Kananaskis residents were the first to rejoice at the snowstorm we endured back in Octsnowber. As the fat flakes covered the ground, some were stating "it's too early!", while others were heading up the ski-touring track to seek out early season turns in the backcountry. Lower in the valley, you could even find some eager beavers ready to skate-ski at the Canmore Nordic Centre, as the word that Frozen Thunder was freshly track-set and opening for the Nordic ski season spread. This means that locals could trail run, mountain bike, rock climb, and cross-country ski all in one day!
Many may think that the end of shoulder season and warmer temperatures mean that there are fewer activities to be had in Canmore Kananaskis, but that is not the case. With winter comes ice, and that means ice climbing frozen waterfalls, which are JUST as cool as flowing waterfalls. Grab a pair of Yak-Tracks or rent a pair from one of the local rental shops, and head out on a day hike. There are still plenty of trails to be tackled. If the snow is too deep, you could grab a pair of snowshoes, which make traipsing around in the deep snow even more fun! If you're feeling brave, you can set out on a caving tour, and explore the depths of a mountain. We've already mentioned the obvious sports: alpine skiing, cross-country skiing, and fat biking, but if try something that doesn't require you to do all the work: take an alpine heli-tour or head out for an exhilarating day of dog sledding.
All in all, winter brings more than just cold weather. If you'd rather be yipping with glee instead of saying 'bah humbug' this winter season, just get involved in a winter activity and you'll soon find yourself looking forward to winter, just like those who call Canmore Kananaskis home. Come and join us in the Canadian Rocky Mountains this winter!